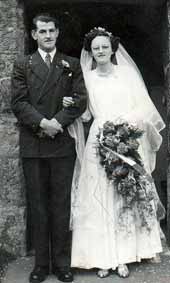 In 1953 at Ayton church, Tom married JOYCE MARY (Kellington),
born 1929, the daughter of  John Moody Kellington (born 18th January 1899 Sherburn, Yorks, died 1935 Hutton Buscel, Yorks) and Laura McNEIL (born 21st Oct 1902, died 25th Jul 1987). (John & Laura were married on the 16th November 1927 at York).
Joyce has a brother John Frank Kellington, born 7th Jan 1933.

Tom and Mary had two daughters:-