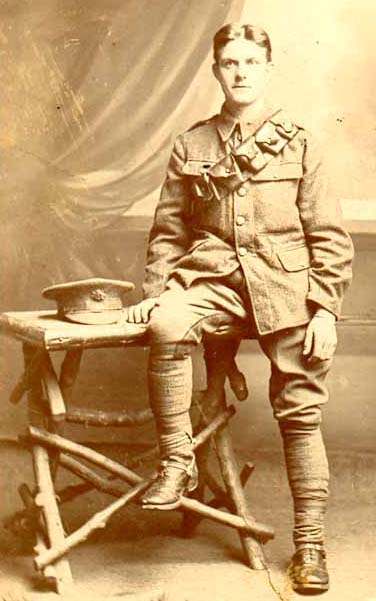 Harry Pledger was a 'Wolds Waggoner' both in peace time and in war. Born at Hunmanby on 19th September 1892, he had little option but to find employment in agriculture when he left school at the age of twelve years in 1904, and eventually worked his way up to be 'wag' or waggoner, a senior position in the farming hierarchy. He was the man on the farm who was in charge of the horses, the most important part of farming in the early 20th century. In this position he became an expert in the handling of horses and indeed the 'pole waggons' which were typical of this area, having just a central pole as opposed to two shafts.
These farm men had very little spare time and when they did they devoted most of it to the care of the horses in their charge and kept both the animals and their harness in impeccable order. Driving demonstrations at local shows as well as competitions were a regular feature of life on a wolds farm when the astonishing degree of skill became apparent after a team of waggoners had shown their expertise in competition.  This entailed them putting the wheels onto a pole waggon and then putting the complicated harness onto a pair of horses before harnessing them onto the waggon. The waggon would then be driven to a point to be loaded with twelve fifty six pound sacks of grain before reaching the winning post. This was often accomplished in the astonishing time of under 1 minute.
Lt. Col. Sir Mark Sykes of Sledmere realised that there would always be a useful troop of fully trained  horsemen who, under normal circumstances would take an army at least six months to train, in the event of war. In 1906, Sykes approached the War Office with a view to forming a reserve unit which would be immediately ready to serve at home or abroad, but was turned down. However, he persisted and eventually in 1911, a senior army officer reviewed a practical demonstration of the wagonner's skills and became convinced that the idea had its merits and Sykes was allowed to form his troop.  The Wagonner's Special Reserve was formed and before the outbreak of hostilities in 1914, there were some 1,127 men in the force. Unlike other reserves, these men were committed to serving abroad when required and it was agreed that they would not undergo military training, which meant that they could concentrate on their normal occupation until the time came for their mobilisation.The objective of this troop was to assist the Army Service Corps in supplying the front lines and that is exactly what they did.